GuitarTuna - Tuner for Guitar Ukulele Bass & more!
Guitar Tunner – Tune Your Guitar like a Pro
If you want to learn how to tune the guitar like a pro then this guitar tunner is a must-have for you. GuitarTuna – Tuner for Guitar Ukulele Bass & More is a useful app that can help you tune your guitar and any other string musical instrument you have. It is ideally suited for both novices and professional musicians who love playing any kind of string instrument. The instructions for tuning the guitar are provided in simple language that is easy to understand for one and all. So, even novices can easily follow the instructions and tune their guitars. Do remember that you need to have a guitar or any other string instrument with you if you want to use this app to tune it.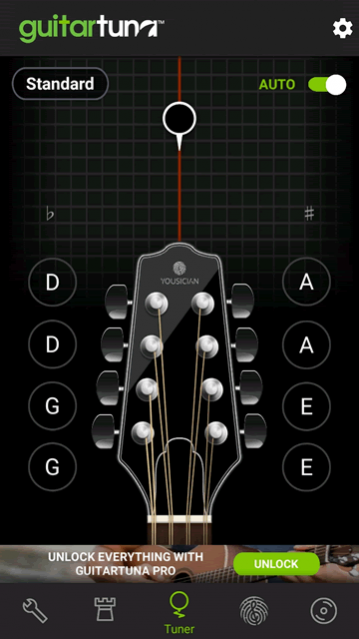 GuitarTuna – Tuner for Guitar Ukulele Bass & More has an intuitive user interface that meshes perfectly with its user-friendly design and layout. It is very easy to use and anyone can use it to tune their guitars. The best thing is that you don't need any cables to connect the guitar to your device for this guitar tunner to work. It has a state-of-the-art audio recognition algorithm that identifies the sound of the instrument and then helps you tune it. So, all you need to do is to play the instrument close to the microphone of your phone. This app is going to recognize the sound and immediately start giving you instructions on how to tune your instrument. No matter how out-of-tune your guitar is, this app will let you tune in within seconds.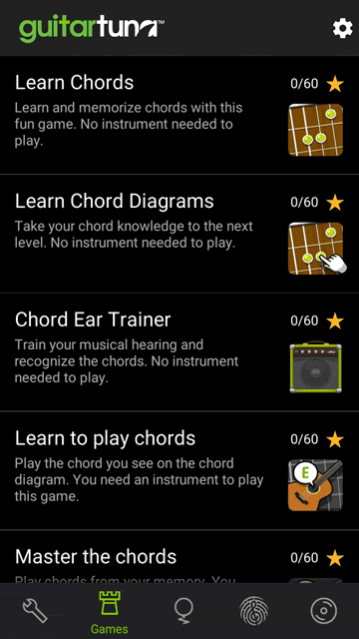 This guitar tunner does not only help you in tuning your guitar but it can also be used for tuning other string instruments like ukulele. You will simply have to choose the type of instrument you want to tune from the list of instruments and then follow the instructions on how to tune it. GuitarTuna has various chord learning games that are very beneficial for people who are learning guitar-playing at home. You can develop and build up your muscle memory by playing these games. This will help you in becoming a better guitarist in the future. Also, this app has an extensive library of chords available so you can learn to play all the different chords with consummate ease.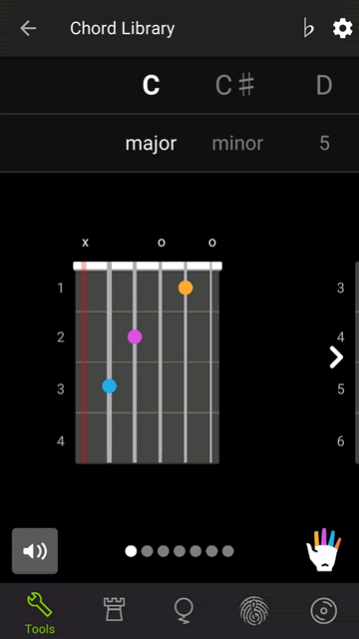 GuitarTuna – Tuner for Guitar Ukulele Bass & More isn't beneficial for novice musicians and guitarists. Professional musicians and advanced guitar players will find some great features in this guitar tunner too. For instance, there is an auto tune mode available in this app that helps you in quickly tuning the guitar. Moreover, there are many other advanced tools on offer that include metronome, alternative tuning sets, and chromatic tuner. For advanced musicians, this app provides highly accurate tuning that resembles professional tuning. So, you can rest assured that your instrument would be tuned to perfection by this app.
Features:
Intuitive user interface
User-friendly design and layout
Tune various types of guitars
Option to tune other string instruments
Audio recognition algorithm for identifying instrument sounds
Highly accurate tuning for advanced musicians
Auto tune mode for quickly tuning the guitar
Doesn't need cables for guitar tuning
Advanced tools available for professional musicians
Chord Learning game for building up muscle memory
An extensive chord library available
Conclusion:
GuitarTuna – Tuner for Guitar Ukulele Bass & More is an app that is designed for people who are learning to play the guitar. It enables them to tune their guitar and play it like a professional. It is an excellent guitar tunner and you should have it on your phone if you are a novice at playing the guitar.
---
Add a review
Tell us your experience with
GuitarTuna - Tuner for Guitar Ukulele Bass & more!
RELATED PROGRAMS
Our Recommendations
---
---
---
---